5 ideal cocktails for UK Father's Day in 2022
It's Father's Day in the UK on Sunday 19 June, so whether he's a shaken not stirred kind of guy or prefers a sweeter tipple, it's time to swap the pint glass for your best tumbler glass and treat your dad to something a bit more special and sophisticated this year.
From whisky cocktails to classic martinis, Patrick Pistolesi, Master Mixologist at NIO Cocktails has shared his 5 Dad-approved recipes that will spoil him this Father's Day.
1. Old Fashioned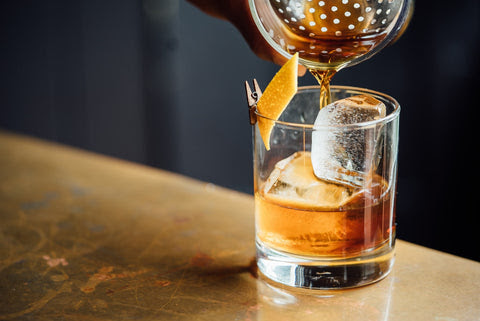 If your dad is a whiskey lover, this cocktail is perfect. As a drink with such classic, complex flavours, it often surprises people to learn how simple the Old Fashioned is to make. However, the challenge is finding the perfect balance of ingredients to not overpower the whiskey; but enhance it.
Ingredients:
60ml bourbon
3 dashes of Angostura bitters
½ teaspoon liquid sugar
1 teaspoon water (this is to help enhance the flavour by slightly diluting the alcohol)
For the garnish:
Equipment:
Method:
Add the liquid sugar, bitters and water to a glass and mix until combined.
Fill the glass with ice and pour in the whiskey.
Stir slowly and well for 20-30 seconds, to let the ice melt slowly.
Express the orange peel over the drink then drop it in the glass.

You can find the full recipe here, with Patrick Pistolesi's expert tips.
2. Classic Margarita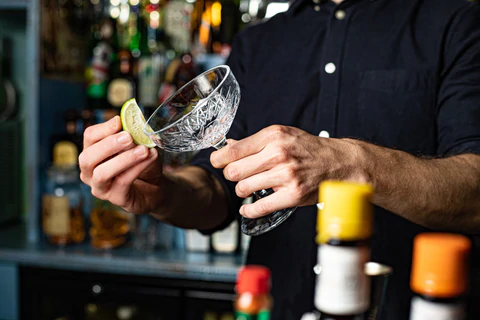 A classic margarita is the perfect tipple for dads who prefer a sharp, citrus, zingy serve, as opposed to a sweeter beverage. And if you want to be extra fancy, why not rim the glass with salt and garnish with a slice of lime?
Ingredients:
60ml Blanco tequila
15 ml orange liqueur
30ml lime juice, freshly squeezed
For the garnish:
Equipment:
Margarita glass
Cocktail shaker
Cubed ice

Method:
Add tequila, orange liqueur and lime juice to a cocktail shaker filled with cubed ice.
Shake for 30 seconds until the cocktail shaker is difficult to hold due to being so chilled.
Strain the liquid into a margarita glass that is pre-garnished with lime and salt.

You can find the full recipe here, with Patrick Pistolesi's expert tips.
3. Classic Negroni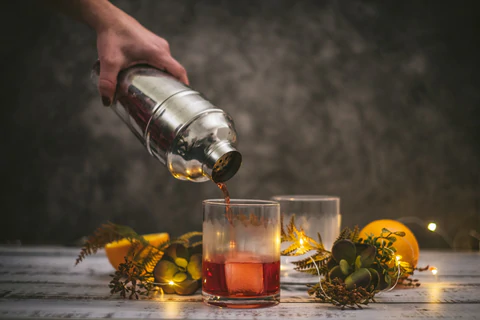 The Negroni is a classic cocktail that features on almost every cocktail menu. Simple, classy and perfect before dinner – the Negroni is loved for its flavour and gall. Even better, the Negroni is very simple to make, meaning you don't have to be an experienced mixologist to impress Dad.
Ingredients:
30ml Gin
30ml Campari
30ml Sweet Vermouth

For the garnish:
Square Ice Cube
Orange peel
Equipment:
Standard lowball cocktail glass
Mixing spoon
Method:
Add all of the ingredients to a mixing glass filled with ice
Stir with a mixing spoon until the cocktail is chilled
Strain into a low ball glass filled with large ice cubes or one large ice cube for a better effect
Garnish with an orange peel.
You can find the full recipe here, with Patrick Pistolesi's expert tips.
4. Non-alcoholic Negroni Recipe
If Dad doesn't drink, it doesn't mean he can't still enjoy a cocktail on Father's Day, with plenty of mocktail recipes such as a non-alcoholic Negroni. As far as mocktails go, the non-alcoholic Negroni can be a challenge, as the alcoholic element of a Negroni, Campari, plays a big role in the overall flavour profile. However, Patrick Pistolesi has done the hard work for us, by replicating the flavours with a wonderful balance of botanicals, aromatics and spice.
Ingredients:
25ml white grape juice
2 orange slices
1/2 grapefruit
125g caster sugar
3 lightly crushed cardamom pods
Coriander seeds
Red food colouring (optional – or try blood orange juice)
Ice

Equipment:
Saucepan
Measuring jug
Wooden spoon
Strainer
Low ball glass
Method:
Take the grapefruit and chop it into small chunks.
Add the grapefruit to a saucepan along with 1 orange slice, 125g caster sugar, 125ml of water, crushed cardamom pods and coriander seeds.
Heat the syrup mixture until simmering for about 5 minutes.
With a wooden spoon, use the back to crush the fruit pieces in the saucepan to gently release the juices.
When the fruit has softened, and the white pith of the orange slice has faded, take it off the heat and leave it to cool.
At this point, you can add a few drops of red food colouring, or natural alternatives such as juice from a blood orange to the mixture to replicate the vibrant colour of the Negroni.
After the syrup mixture has cooled, strain it and remove the visible spices and fruit pieces.
Fill a low ball glass with ice and pour in 25ml of the syrup mixture, 25ml of white grape juice and 25ml of cold water – so the mocktail is still just as perfectly balanced as the cocktail.
Stir the drink gently.
Garnish the glass with a slice of orange.
You can find the full recipe here, with Patrick Pistolesi's expert tips.
5. Bloody Mary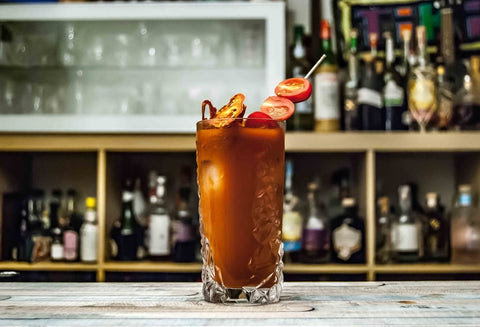 A Bloody Mary is one of the most unique-tasting cocktails you can have, yet there are hundreds of variations on the classic cocktail recipe. Containing some wild ingredients such as tomato juice, Worcestershire and Tabasco, this cocktail is one for the adventurous dads.
Nevertheless, Nevertheless, this recipe is a guaranteed hit with the avid Bloody Mary lovers. Just make sure to ask Dad if he wants a splash of additional hot sauce or a garnish of pickles or bacon!
Ingredients:
2 ounces premium vodka
4 ounces tomato juice
1 tbsp lemon juice
2 dashes of Worcestershire sauce
2 dashes of Tabasco sauce (or more if you can handle the spice)
A pinch of celery salt or sea salt
A pinch of ground black pepper
Ice
Method:
Put the ice in a large mixing jug then pour the vodka, tomato juice and lemon juice into it.
Add in the Worcestershire and Tabasco sauce along with a pinch of salt and pepper.
Mix all of the ingredients together by stirring vigorously until it's smooth, and then strain it into some tall glasses.
Top up the drink with some more ice and add a garnish of your choice, fresh herbs, celery sticks and a slice of lemon traditionally work well.